Aaack! Christmas is less than 2 weeks away!
I was just wondering....how did that happen?!
Here are my December Favorites -
Holiday Goodies Edition
(La-tee-da)
There is still a lot of stuff out there, but I wanted to share these before it was too late!
More December Favorites (non-Holiday) at the end of the month!
Isabella and Max Rooms - Printable Gift Tag
- Cute and FREE printable gift tag for wine bottles or otherwise.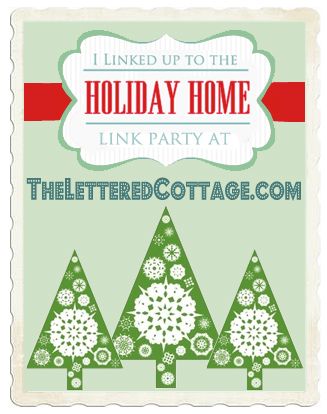 The Lettered Cottage - Holiday Tablescapes
- A bunch of nifty, neat-o, creative ideas, all linked in one place!
A Cup of Jo - Gift Guide for Dad
- Some interesting and cool gift ideas for Dad.
The Pioneer Woman - Cookbooks for Christmas
- Strangely although I love books and I love to cook I don't have an obsession with cookbooks. I find most of my goodies on-line. This sort of makes me feel like I should start an obsession though....a whole list of cookbooks for Christmas. Plus, the last book suggestion is hilarious. Love it.
Namely Marley - Holiday Snack Mix
- Who doesn't love snack mix? This can be vegan too.
Two Peas & Their Pod - Chocolate Chip Peppermint Crunch Cookies
- A Candy Cane cookie for the Holiday Season!
Two Peas & Their Pod - Red Velvet Cheesecake Cookies
- Another cookie from Two Peas & Thier Pod. These would make a festive cookie tray!
Shutterbean - Homemade Limoncello
- A great idea to give as a gift or serve as a fancy party cocktail, and pretty too!
i am baker - Tangled Christmas Lights Cupcakes
- Too cute not to share.
A Cup of Jo - Holiday Gift Guide for Sister
- Some cute and quirky gift ideas for your sissy.
Simply Scratch - Eggnog French Toast Sticks with Brown Butter Syrup
- I have nothing to say about this other than YUM. Breakfast perfection. The Cyclist would love me forever if I made this for him.
Shutterbean Homemade Amaretto
- Oops, Shutterbean did it again! Another tasty cocktail or gift.
A Cup of Jo - How drunk can you get at your office party?
- The chart was too awesome not to share. Click the link for the large version.
Family Fresh Cooking - "Vintage Stitches" Holiday Gift Tags Printables
- More free printable gift tags!
Dessert for Two - Mini Gingerbread Loaf
- This would be a tasty addition to a gift basket!